Today you do not need to visit a physical casino to enjoy hours of pure fun. A truly powerful casino experience is never more than a few clicks away. There are multiple online casinos in the US where you can play your favorite games on slot machines or play poker, blackjack, roulette, and much more. But be aware of the casino regulations.
Casino games are currently widespread in the US, but there are some states in which gambling is illegal, whilst there are states where all forms of gambling are legal. Therefore, it is smart to stay up to date with US online casino regulations. Let us, therefore, give you a brief overview of the laws in the US and list the states where gambling is allowed and in which it is not.
Remember that regulations are constantly changing, so it is best to stay up to date on your state's official website.
Different states, different regulations
Since the regulation of gambling itself has a long history in the United States, we will focus on recent news regarding gambling legality. Land-based games are generally legal in the US, but online gambling has been a legal gray area until very recently.
It is not illegal to play on online casinos, as long as the casino does not physically exist within the borders of the country. This means that online casinos that serve US players who are based off-shore with an off-shore license, are completely legal to play on. However, at the time of writing, many states see gambling as something illegal.
Then the legislation also varies depending on different types of games. Some states, for example, allow all kinds of gambling (casino, poker, and sports betting) whilst others only allow one or two. Again, make sure to stay up to date with your state's regulations before playing.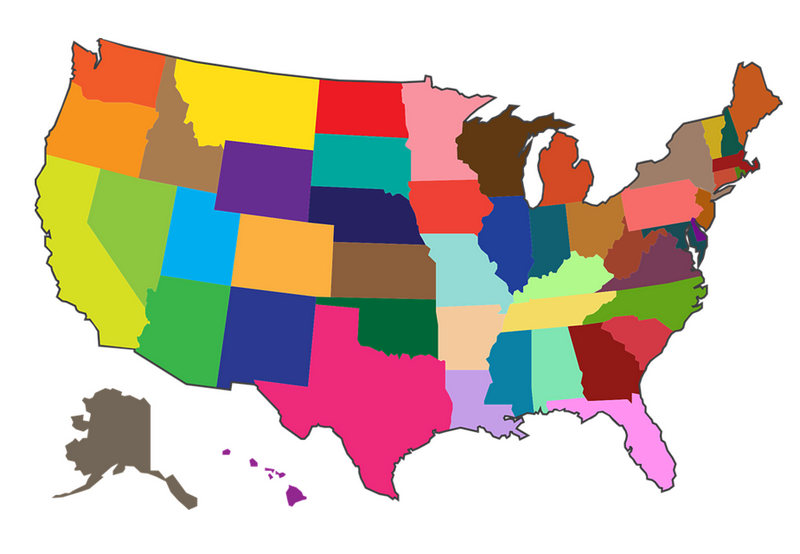 The largest markets for regulated online gambling
As stated, there are a couple of states where regulated online gambling is legal. At the moment of writing, four US states have legalized gambling operations within their borders, and these are Nevada, New Jersey, Delaware, and Pennsylvania. Pennsylvania is the newest on the list since their gambling expansion became law in 2017. Now, there are several online casinos in Pennsylvania, where you can access your favorite games – legally! Just visit Pacasino.com for more information.
Sports betting is allowed in more states
When it comes to sports betting, the regulations are not as strict in most of the U.S. states. States such as West Virginia, Indiana, Iowa, New Hampshire, Oregon, and Colorado have recently legalized sports betting. This, because many of the states have realized that they generate profit from the legalization of sports betting. But, of course, also because many citizens wish to gamble legally within their state's border.
This means that you can enjoy betting during major domestic as well as international games on many sports sites established and operated in your own state. But please check what rules exist and apply in your particular state before you play.
To get the best free roulette systems that really work, see the top 5 proven roulette systems and the video series below. It's the best 100% free information for winning roulette you'll find. It's written by professionals who are really earning a living from roulette.